Each month when our Ultreya group meets, we put our names in a basket and then each of us draws one out to find out who we pray for (in a special way) for the following month. So, Bryan – you get a really good month!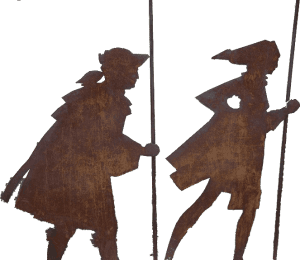 I leave for Spain tomorrow for my Camino. I have only one real expectation: I expect to complete the 500 mile walk. Other than that, I have some hopes such as hope of finding a deeper connection with God, hope of leaving more than a few extra pounds of myself behind, hopes of meeting new people, seeing new sites, visiting interesting places and churches, and forming new friendships while coming to know my walking companion better.
My basic approach is to treat this as an active, walking prayer — could be meditation, could be contemplation, could be intercession for those who have asked for prayers, and even for those who have not. At least parts of this journey will be a prayer for men and women here in Alabama who are working as team members for the fall Cursillos, and for those new pilgrims making those weekends.
I've considered this prayer aspect enough that I have been very pleasantly surprised by those who say "I'll be praying for you." — It becomes shared prayer. I pray for so many here at home, and in turn, so many here will pray for me. It seems that perhaps I a part of a large community, even as I am pretty much alone. That seems rather like our journey to find the god within: I must do it myself, but I must do it as a part of the community. Not either/or but both/and.
And so, I spent my 75 minutes struggling to stay focused at yoga practice this morning. I try to sit still and breathe and rest in God; I will run with my other buddies in the morning before loading the car and heading to the airport. Yoga practice and running — those are my regular forms of moving meditation… walking the Camino will have to become that moving meditation for the next few weeks.
And to you who will walk with me vicariously (through thoughts and prayers) – thanks for the shared prayer.